Markets.com is an online broker which offers its clients access to Shares, Forex, Indices, ETFs, CFDs and Commodities trades. It includes several trade tools, a variety of educational materials (including webinars), plus 24 hour support, zero commission and competitive spreads. As with any trading website, it's important to remember that you can lose, as well as potentially make, capital.

Access to Shares, Forex, Indices, ETFs, CFDs and Commodities trades.



Let's look at the more general features first, since a lot of what we'll cover will be included under the various market subtitles of this review. The site offers three key trading tools: an economic calendar, margin call and trading signals. The first, as you might expect, informs you about important economic dates in the future. Margin call, however, is most suited to trading CFDs and allows you to better understand and analyse the risks of leveraged trading. Essentially, this is a guide to topics such as margin levels. Finally, the site's trader trends feature presents you with selling and buying trends to help you better predict potential rises and falls in the markets.
A number of educational features are also available through Markets.com. NonFarm Payroll Reports are easy to access, plus you can learn about trading through an engaging webinar session. A guide to trading basics can help anyone who's new to online trading, plus there are market-specific educational pages (for Forex and CFD traders). Technical and fundamental analysis notes are provided to help you better predict future investments, and you can easily find instant quotes on current buy-sell prices.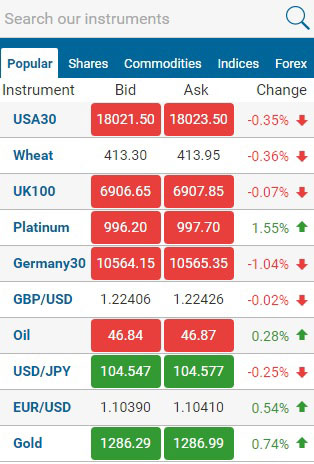 Search Market.com instruments for instant quotes.

If you're new to online trading, then, there's plenty of content to help you find your way around. You can also try the site's free demo accounts, which let you practice trading without having to risk losing money. 24 hour support is also available 5 days a week, through a live messenger.
Now let's take a look at the key markets open to clients who choose Markets.com to trade online.
Indices
Trade on more than 25 of the world's major indices markets, including Dow Jones, Nikkei, FTSE 100 and more. You can gain the maximum benefit from smaller investments, with up to 100:1 leverage (default leverage of 1:50. T&Cs apply), and may analyse your results using technical charts on your mobile, web browser or tablet devices. As with all trades on Markets.com, there's no commission to pay.
Commodities
Invest in oil, gold, coffee and many more options. The commodities available on Markets.com are some of the most expansive we've seen, with options you often don't find elsewhere. You can also trade with 100:1 leverage (default leverage of 1:50. T&Cs apply), with tight spreads so you can get more from your investment. If you'd like to try your luck without risking your money on the commodities markets, you can also open a demo account.
CFD
Easily view current rollovers and their expiry dates. CFDs allow you to build varied portfolios in currencies, business bonds and shares, indices and more. The site contains plenty of details on each, including trading hours, with the ability to search instruments for current bid and asking prices.
Forex
Trade over 50 top international currency pairs, 24 hours a day. Real time quotes provide you with an opportunity to catch deals, with up to 200:1 leverage (default leverage of 1:50. T&Cs apply). Spreads start from 2 pips (though we've seen lower available elsewhere) and there are no trading fees or commission. Charting tools allow you to keep track of currency pair trading prices, in a bid to help you predict market shifts.
Summary
Markets.com provides a great space for accessing a wide variety of instruments. Whilst their selection of tools is a little limited, they've some really handy educational features which ought to benefit anyone who is new to online trading. We were particularly impressed by their selection of commodities, shares and bonds. This is an overall high hitter, with plenty of items and markets to explore.
Click on the button below to check out Markets.com for yourself...