Plus500.com allows you to trade in the UK's main index (FTSE 100), as well as accessing a wide range of options in shares, Forex, indices, commodities, ETFs, options and CFDs. They provide online tools and download options to help you monitor and manage your investments, with automatic withdrawal options to help prevent losses. As with all online trading sites, your capital may be at risk when you trade online so please read our buying guide for some more information. Plus500UK Ltd. also don't charge commission on investments, which may save you around 0.5% when compared with traditional online trading platforms.

The free demo allows you to try your hand at trading without the risk.



If you're new to online trading, you might wish to consider the free demo offered by Plus500UK Ltd. The free demo allows you to try your hand at trading without the risk. The service provides a simple user interface which allows you to monitor and manage your investments. You can view your investments, buy and sell prices, overall highs and lows, and graphs which provide a visual guide to investments over time. You can also check out open and closed positions, and your future orders.

User-friendly interface allows you to manage your trades quickly and easily.

If you think you're doing well using the demo version, you can easily switch to a real-money account and convert your virtual investments to real credit. Of course, it's important to be aware that this conversion could result in monetary losses, but that's the nature of online trading and investment.

Invest in a wide range of options without paying commission.



If you're looking to invest in a wide range of options without paying commission, might be the website for you. You can invest in shares from top companies, invest in leading commodities, put money into currency exchanges, explore numerous markets through the site's indices, ETFs, CFDs and options. If you're not sure what this involves, the website also provides useful demonstration videos so you can better understand trading and the tools available to you.
Another benefit of Plus500UK Ltd. is that they don't charge commission. This can save you up to 0.5% when compared with other trading websites, which may not sound a lot but it can really add up if you're investing regularly.
Deposit bonuses are also available if you meet certain Terms & Conditions, which is essentially like free money for using the site. Of course, investing your credit comes with risks, so it's important to consider this before making any investments. The bonuses can mount up, though, and if you do well then it's a great and very welcome addition to profits (Terms & Conditions apply).

Earn bonuses on your cash deposits. (Terms & Conditions apply).

If you're not quite sure what to invest in, the website provides a "most popular" list on its homepage. You can search through the instruments available or just consider the most popular investments. The simple layout allows you to quickly find shares and commodities which are performing well, and to quickly invest before the tides turn.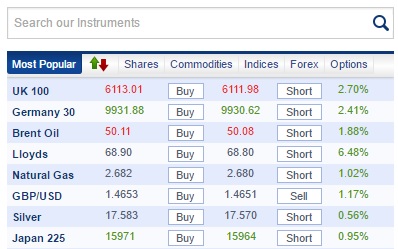 "Most popular" investments can be searched through from the homepage.

Regulated
The Plus500 trading platform is offered by Plus500UK Ltd. The company offices are located in the city of London, UK, and it is authorised and regulated by the Financial Conduct Authority (FCA), FRN 509909, to offer Contracts For Difference (CFD).
If you open an account, Plus500UK Ltd. will hold your funds on a segregated basis, in accordance with the Financial Conduct Authority's client money rules.
Plus500UK Ltd. is a subsidiary of Plus500 Ltd. The parent company is headquartered in Haifa, Israel, and listed on AIM (Alternative Investment Market), one of the equity markets of the London Stock Exchange.
Plus500CY Ltd. is authorised and regulated by the Cyprus Securities and Exchange Commission (CySEC), licence number 250/14.
Such internationally recognised regulation should offer some reassurance to prospective clients.

Trading Platform
Plus500UK Ltd. uses a single trading platform across a range of devices, meaning you won't need to learn how to use a different platform when switching from one device to another. It is a versatile system, and you can choose to use the online tools or download the platform for your device, to help you to trade from the office or on the move.
Apps are available for android devices, iPhones, iPad and more. Plus500 is one of the highest rated CFD trading apps on Apple's App Store and on Google Play. It also includes CFDs on popular financial instruments. You can also download their investment platform for Windows (including Windows 10) for a smooth operation with greater levels of management control. They've taken care over their software, making sure that each download is appropriate for the device it is being used on.
The well-designed user interface shows updated information in a quick and easy snapshot, with toolbars which allow you to move smoothly between instruments. You can easily perform a new search, view trends and prices over time, or find more information about a particular trade within a single click.
In addition to all those features we've already discussed, there are a lot of different markets to invest in through Plus500, so let's examine a few of your options.

Shares
You can invest in shares from 20 different global markets including those from the USA, UK, France, Germany and more. You can also view real time quotes from each market, allowing you to make quick decisions on whether to buy or sell. Thankfully, there are also no exchange fees, which can result in saving 0.5% when compared to some other share purchase options.
Plus500.com is also keen to provide leverage to their users, meaning that small investments can adopt the effects of trading with higher amounts, so you can earn (or lose) capital based on market trends in areas you might otherwise not have enough money to invest in. Finally, you can set price limits, allowing you to automatically buy or sell depending on your profit and loss limits.

Forex
Low spreads between sell and buy prices (2-pips on the EUR/USD exchanges) and no commission charges may limit your losses on Forex (currency exchange). The Plus500 free trading platform also allows you to keep a close eye on your profit/loss settings, with professional graphs and an overview of currency pairs. Again, leverage is important here, and you can take advantage of 1:200 leverage, meaning small investments can take advantage of trading figures on larger capitals.

Assess buy and sell prices instantly.


Indices
As with other investments on Plus500.com, you won't be charged commission for indices investments. Leverage on indices is as high as 1:294 and the rates are continually updated so you can make informed trading decisions. Graphs show short and long term analysis. As it is quick and easy to add and remove account credit, you can invest as soon as you spot a positive trend.

Commodities
Trade in the most popular commodities: oil, gold and silver with 1:150 leverage and investment starting at just £100. You can set your buy and sell positions to prevent large losses when your values are met. The commodities list on Plus500.com is probably the most limited of its investment categories, though, so if you plan on primarily trading in commodities then you might wish to look around at the range available elsewhere before deciding what's best for you. Don't forget that you will receive a £20 sign up bonus with no deposit required, with larger bonuses available if you make real money deposits and then invest online (Terms & Conditions apply).

ETF
A set of online trading tools, including profit/loss limit settings, allow you to invest in a variety of ETFs (Exchange Traded Funds), which essentially provide you with a way of investing in commodity price fluctuations without having to make a direct investment in futures contracts. Again, the minimum investment is just £100 and you can gain from 1:100 leverage.

Options
A flexible investment option with access to Dax 30, MIB 40, S&P500, CAC 40 and AEX 25 markets, with low spreads on buy and sell prices. There are also hedging possibilities which include Put and Call options, plus you can deal on sideways markets with instant rates which regularly update.

CFDs
Invest at a quoted price, and see how your investment progresses over time. A detailed account of CDF trading is provided on Plus500.com and they clearly outline the potential risks of loss. In addition, you can read articles on risk management and utilise the site's financial tools to monitor your CDF investments. You can explore popular shares, or shares specific to a particular country, or investigate the CFD lists for commodities, indices, Forex, options and ETFs (Exchange Traded Funds).
CFDs have become very popular in recent years. As explained in the useful "Help" section on Plus500.com, with CFDs, you get all the perks of having a stock, index, ETF, forex or commodity position without needing to physically own the underlying financial instrument itself.

With CFDs, you get all the perks of having a stock, index, ETF, forex or commodity position without needing to physically own the underlying financial instrument itself.



So rather than buying 1,000 Apple shares from a stockbroker, a customer could buy a 1,000 CFDs of Apple on the Plus500 Trading Platform. A $7 per share fall in the price of Apple would give the CFD customer a $7,000 loss, while a $7 per share rise in the price of Apple would give the CFD customer a $7,000 profit, in the same way as if he/she had bought the actual shares that are traded on the Exchange.
With Plus500.com's CFD service, there are no Exchange charges and no Stamp Duty. According to Plus500, "the costs and delays of physical delivery of the shares, their registration and any holding or safe custody charges made by a broker are all avoided."
Another benefit of CFD trading is that customers can trade a portfolio of indices, commodities or shares without having to invest a lot of capital. For example, a customer purchasing $70,000 worth of shares will only be asked for $7,000 initial margin for the equivalent CFD portfolio.

Summary
With user-friendly online and downloadable platforms for a range of devices, demo accounts and superior customer support, Plus500UK Ltd. is a good option for both new investors and financial professionals alike. Its sheer range of markets makes it a flexible service wherein you can practice your investment decisions before adding real credit to your account.
The site doesn't charge commission (though some other fees may apply, such as if you leave your account inactive for 3 months), plus you can receive bonuses on credit added to your accounts (Terms & Conditions apply). Its automatic buy and sell features also mean that you can better reduce the risks of losses whilst capitalising on potential gains. If you're thinking of exploring online trading options, Plus500.com is a really great place to start.
Click on the button below to check out Plus500.com for yourself...